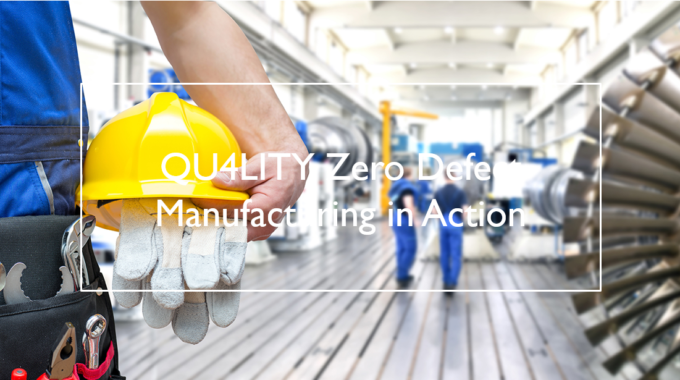 H2020 Project Qu4lity started
The Zero-Defect Manufacturing (ZDM) concept has been articulated more than forty years ago as an element of quality management and has been gradually adopted as a quality optimization discipline in the manufacturing chain. Manufacturers have been purchasing and deploying ZDM solutions targeting different aspects of quality control and production processes, including factory automation, condition monitoring, supply chain optimization, predictive maintenance and more. Despite these solutions, ZDM adoption is still painful for most manufacturers, as it is directly associated with a complex and time-consuming engineering ramp up phase, while involving multi-stage processes that span multiple production systems from the field to the enterprise levels. Large enterprises have to deal with many complex ZDM processes at scale, while SMEs lack the knowledge, skills and equity capital to invest in ZDM.
QU4LITY will realize a radical shift from state-of-the-art production quality methods to the disruptive Autonomous Quality (AQ) concept, through enabling manufacturers and solution providers (including SMEs) to develop, validate, deploy and adopt innovative Cognitive Manufacturing solutions for ZDM. To this end, QU4LITY will provide digital enhancements to state-of-the-art ZDM equipment and processes, while providing a reference architecture and blueprints for integrating them in the factory. At the same time, QU4LITY will establish a pan-European ZDM innovation ecosystem that will boost the development, validation and wider uptake of novel digital manufacturing solutions for AQ.
The project's reference architecture (QU4LITY-RA) for AQ solutions will comply with latest standards for digital industrial automation and digital manufacturing (i.e. RAMI4.0, OpenFog RA) with a view to providing structuring principles for the easy, modular and flexible deployment of ZDM solutions at any stage of the plant development lifecycle. The QU4LITY ZDM solutions will provide and integrate functionalities across all levels of a digital manufacturing solution (i.e. workpieces, components & machines and entire manufacturing processes) both at the shopfloor/plant level and across the manufacturing value-chain. Likewise, they will comprise functionalities at various timescales, including functionalities for the real-time detection and alleviation of defect indicators. These functionalities will be integrated towards providing fully autonomous ZDM solutions that will be faster and more cost-effective to deploy and operate.
QU4LITY will validate and showcase its approach in the scope of large scale, innovative ZDM pilots, in almost operational environments of the manufacturers of the consortium.